Suguru Shimura (紙村 英, Shimura Suguru) is one of the eight members of the Yotsuba Group.
Appearance
Edit
Shimura has thick, black hair and brown eyes. He is normally seen wearing a suit with a light-colored coat underneath.
Character
Edit
Shimura is the Head of Personnel in Yotsuba. He is a very paranoid person and always keeps a close eye on others. Shimura's ability to pay attention to small details allowed him to join the meetings; he noticed subtle changes in Reiji Namikawa's face during his phone call with Light Yagami, who was pretending to be L. Death Note 13: How to Read states that he does not like his inclusion in the group meetings.
While generally perceived by his coworkers as overly paranoid and often talked down to for it, most of Shimura's suspicions are correct; for example, he correctly theorizes Eraldo Coil to be a spy for L or the police. He consistently views the meetings as dangerous and immoral, as evidenced consistently throughout the Yotsuba arc.
Shimura graduated from Kyodo University's law department and enjoys rugby, having at one point been offered a place in the national team. How to Read 13 also states that he dislikes gambling.
Shimura is an unwilling participant of the Meetings of Death. He is shown to have multiple concerns over L and Eraldo Coil that prove to be true, although none of the other members of the Yotsuba Group pay his suspicions much attention.
He eventually contacts Shingo Mido, desperate to put a stop to the Yotsuba Kira's plans. They hold a private meeting at Mido's house on the night of Higuchi's arrest, later joined by Namikawa, to discuss Kira's possible identity and possibly make plans to attempt to stop him, although they never take further action due to Higuchi's apprehension later that night.
A little over five months after L's death, he is killed by Light along with the other remaining Yotsuba Group members. This is not shown in the manga, but in the anime, he is the last to die, directly after Namikawa dies in his arms.
In other media
Edit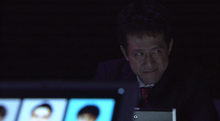 In the 2015 television drama, Shimura is a quiet participant of the meetings and does not contact his fellow members to stop the meetings. He and the other six Yotsuba Group members survive the series.
Community content is available under
CC-BY-SA
unless otherwise noted.