Masahiko Kida (樹多 正彦, Kida Masahiko) is one of the eight members of the Yotsuba Group.
Appearance
Edit
Kida has short black hair. He is seen wearing a black suit and a pair of glasses.
Character
Edit
Kida is the Vice President of Rights and Planning at Yotsuba. Death Note 13: How to Read states that he is "calm and collected, but very calculating" and that he lacks "the ability to deal with surprises."
Kida graduated from To-Oh University's Science Department with a degree in psychology. In 1994, he began working for Yotsuba. He collects eyeglasses as a hobby and dislikes contact lenses. Both of his parents are biology teachers.
Kida hired Eraldo Coil to discover the name and face of L, alerting L to the group. L sent Aiber to impersonate Eraldo Coil to further investigate the Yotsuba Group. Aiber shook Kida by charging a high price upfront with the threat that if they disagreed with his rates, they would have to pay a bribe for him to be silent. This made the Yotsuba Group think he knows enough and pushed them to hire him. Later, Kida contacted Eraldo Coil (impersonated by Aiber) and invited him to interview Misa Amane, as she was suspected of being the second Kira and would know the identity of L. By Mido, Kida was scratched from the list of suspects to be of the Yotsuba Kira since it was he who put money in the account to hire Coil.
A little over five months after L's death, Kida is killed by Light along with the remaining Yotsuba Group members, dying of a heart attack.
In other media
Edit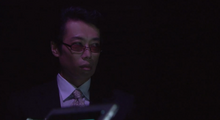 In the 2015 television drama, Kida is similar to his original counterpart. He and the other six Yotsuba Group members survive the series.
Image gallery
Edit
Community content is available under
CC-BY-SA
unless otherwise noted.