This is a list of official figurines and related toys for the Death Note manga and anime series.
Nendoroid
Edit
The Good Smile Company released both regular Nendoroid and Nendoroid Petites for the Death Note series. Light, L, Misa, and Ryuk were released as Nendoroids. A Santa version of Light and a Reindeer version of L were released for Christmas. Two Nendoroid Petite sets, called Case File #1 and #2, were released featuring additional characters.
At Wonder Festival 2019 Winter, Good Smile Company announced two new Nenderoids of "Light Yagami 2.0" and "L 2.0".[1][2][3] The Light Yagami 2.0 Nenderoid (catalog #1160) is anticipated for release in December 2019.[4][5][6]
Funko Pop
Edit
Four Death Note Funko Pop vinyl figures were released in 2017 in their "Pop! Animation" line. The release corresponds with Netflix's Death Note film, but the toys are based on the original character concepts.
Available charactersEdit
Light, #216
Ryuk, #217
L, #218
L (With Cake), #219, Hot Topic exclusive
Image galleryEdit
External linksEdit
Anime Trexi figures were released for Light, L, Misa, and Ryuk in 2015.[7] The figures are approximately 3 inches high.
Jun Planning
Edit
Griffin Enterprises
Edit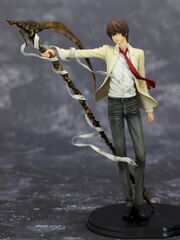 On December 28, 2010, Griffin Enterprises released a cold-cast resin 26cm figure of Light. [10] [11] [12]
Specifications:
Height: 26 cm (10¼ inches)
Sculptor: Yuma
Release date: December 28, 2010
Model number: DN01
JAN: 4582221153445
Retail price: ¥14,000 yen
Griffin Enterprises also released figurines of Light (#008) and Ryuk (#009) as part of its Figutto line. [13] [14]
| Specifications | Light | Ryuk |
| --- | --- | --- |
| Numbering | 008 | 009 |
| Height | 16 cm | 18 cm |
| Sculptor | Piron | Kairai Genba |
| Material | PVC | PVC |
| Release date | July 2011 | July 2011 |
| Retail price | ¥4,380 | ¥5,700 |
| JAN | 4582221153698 | 4582221153704 |
| Catalog | FG15DN | FG16DN |
Oniri Creations
Edit
Light & Ryuk
Edit
In 2017, Oniri Creations released plans for a 1/6 scale diorama statue of Light and Ryuk. It was initially intended for release in 2018, but it's been pushed back to March or April 2019. Production is limited to 999 copies.[15]
Specifications:[15]
Dimensions: 48x29x28cm
Scale: 1/6
Sculptor: Sheridan Doose - Guillaume Vanson
Painter: Kevin Ferrer
Concept: Hive Studio and Oniri Creations
Price: 482,50€ (about $546 USD)
Official description:[15]
The statue features the two main protagonists, Light Yagami holding a scythe and Ryuk the God of Death who keeps a close eye on the use that Light will make with the Death Note. The base represents the Shinigami World. Light comes with two switch-out left hands, one holding the Death Note, and the other an apple that Ryuk craves so much.
L & Watari
Edit
At Japan Expo in Paris on July 5, 2019, Oniri Creations revealed the prototype for a second Death Note figurine, this time featuring L and Watari.[16][17][18]
Pre-orders opened September 19, 2019.[19][20][21] It is estimated for release in late 2020.
Specifications:
Dimensions: H42 x L34 x P26cm
Scale: 1/6
Sculptor: Pierre-Marie Albert
Painter: Kevin Ferrer
Concept: Hive Studio
Price: 457,50€ (about $504 USD)
Official website description (translated from French):
The greatest detective in the world would be nothing without his books, wells of infinite knowledge for our hero. Lying on the floor, they show an L in full investigation, ready to show that he is the best in his field. Constantly thinking, L records his thoughts on audio cassettes, also present on the base of our statue. Aiming to recreate the atmosphere of an apartment interior, our base imitates a wood effect of the most beautiful effect. Behind L stands his totem highlighting his famous logo. The metallic rendering energizes the colors of the scene. L adores his treats, but he likes above all to be served in coffee! We have designed a decal specially for the occasion. Ryuzaki loves the attention to detail, and so do we.
MegaHouse
Edit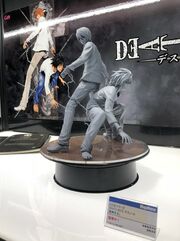 In 2018, MegaHouse exhibited a prototype for a statue of Light and L at Mega Hobby Expo 2018 Autumn. The statue is part of its G.E.M. series. [22] [23] [24] [25] [26] [27] In February 2019, MegaHouse exhibited the statue in color.[28][29][30] Release is anticipated in August 2019, with reservations beginning March 8, 2019.[31]
Specifications:[32]
Line: G.E.M. Series
Product size: Light is 240mm high, L is 150mm high
Material: PVC, ABS
Price: 29,160円 (about $261.45 USD)
References
Edit
Community content is available under
CC-BY-SA
unless otherwise noted.