Linda (リンダ, Rinda) is a resident of Wammy's House.
Appearance
Edit
Linda is a young girl with long, light hair of which is held in two ponytails. She wears a hooded sweatshirt.
Character
Edit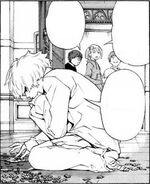 Linda appears to be friendly, as she asks Near to come and play with the rest of the children. She is also said to be a very talented artist.

Linda's only appearance is when she attempts to get Near to come and play with the other children at Wammy's House. She is referred to, however, in a later chapter as a successful artist who drew pictures of Near and Mello for Aizawa and Matsuda when they are sent to Wammy's House by Light for information about L's successors.
Although there is no official confirmation, Linda possibly appears in Death Note Relight 2: L's Successors as the unnamed child who asks L what he fears.
It is implied that as an adult, Linda became a professional artist in the manga.