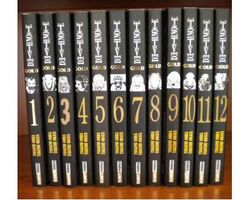 Death Note Gold is a 13x20 reprint of the Death Note series published by Panini Comics, and therefore available exclusively in Italian. Each volume has the same cover as the original, with the word "Gold" printed on the cover, and the words "I GRANDI SUCCESSI MANGA" (roughly translated as "the largely successful manga").
The deluxe version is essentially the same, except each volume has a jacket cover.
Death Note Gold was met with much contempt, and many readers contacted Panini Comics to complain about the issues with the series. There were typos, translation errors, several missing pages in volume eight, and other errors.
In 2009, Marco Cecini of Panini Comics made an official announcement regarding the issues with Fullmetal Alchemist Gold, volume one, and Death Note Gold, volume eight. An apology was issued, and it was further explained that, as is standard with Italian publishers, the volumes would not be reprinted, as this is only done when there are very significant errors. In addition, because Panini Comics does not sell directly to the readers (with the exception of their online shop), nothing can be done to replace the volumes. Further apologies are given, saying that they will be sure to avoid such issues in the future. At the bottom of the page, a scan of the missing page is included.[1]
Community content is available under
CC-BY-SA
unless otherwise noted.