Calikarcha (カリカーチャ, Karikācha) is a Shinigami.
Appearance
Edit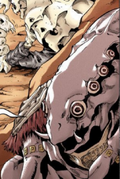 Calikarcha is considered strange-looking even by Shinigami standards, having eight eyes lined up in two rows on each side of its head. It also has a sort of beak and small, mammoth-like tusks. It appears to wear armor with shoulder pads that may be made up of bones and fur. It also has tattoos on its arms, and these seem to be signs of Indians in the Human World.
Character
Edit
Calikarcha has a penchant for blueberries and dislikes sunlight.
Calikarcha is seen in the first episode, writing in its Death Note.
Conception
Edit
Takeshi Obata said that he based Calikarcha's design off of Balinese bird masks.
Calikarcha has the same type of Death Note as Gelus.